About SiTCP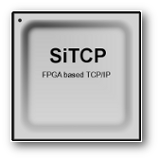 SiTCP is the technology that connects a FPGA with the network.
Using SiTCP, You easily construct a server used in scientific experiment,  on which you need transfer of large-capacity data. It can transfer data by 1Gbps without data communication software.
SiTCP is a library file to use in a FPGA on your module.
We distribute and manage the library which has been offerd by Dr. Tomohisa Uchida.
Provide library files in binary mode for each Xilinx FPGA that cover most products.
See following documents for farther details (sitcp.net).
If you have questions about SiTCP, please refer to SiTCP Forum.

The site is new, but you can use the same username and password as the old SiTCP User Community site.

You can download the library file from GitHub (How to download).
To download documents and software about the product, please see the Download Page.
We sell license files with MAC address. Please apply for quotation from here.