SOY2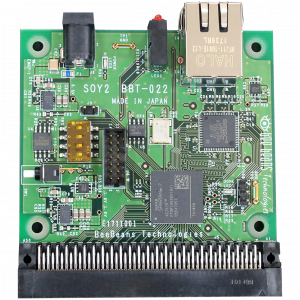 Zoom the image.
SOY2 is a general-purpose SiTCP board with a Xilinx 7 series FPGA (Spartan-7). You can use the board for SiTCP evaluation or attach it to your device. Shape of the board is compatible with BBT-006 SOY-100M and is capable of gigabit-ethernet communications.
The board transfers large data via high reliable TCP.
The transfer speed is about 90 % of line rate.
The board has a UDP protocol to be used as setting register.
With provided utility program, you can set IP address or TCP/UDP port.
※ The address or port number also can be set with control program.
The firmware can be downloaded via Ethernet without using Xilinx Platform Cable USB Ⅱ. And programs can be developed using Vivado (Xilinx Vivado WebPack Edition: Free of Charge).
※Xilinx and Vivado are registered trademarks of Xilinx , Inc.

Eternet:1000BASE-T/100BASE-TX/10BASE-T
TCP Session Limit: 1
TCP Operation Type: server
UDP Communication Protocol: RBCP
Equipped FPGA: Spartan-7 (XC7S25-1FTGB196C standard)
※XC7S50-FTGB196 is also available.
LAN Connector: RJ45
Interface for External Device: FX2-100P-1.27DS
※For the external device, use FX2-100S-1.27DS  or others.
Power Supply: Use an AC adapter or is supplied via the connector (FX2-100P-1.27DS).
Triple LED
4 Position DIP Switch
Push Switch
Outline Dimension: 74mm × 76.9mm (NOT include Projections)
※The Above Specifications may change without notice.
This product also accepts FPGA customization. Please feel free to contact us.
See the Download Page for products documents or downloading software.
Download the SiTCP Library for Xilinx Spartan 7 from SiTCP User Community .